My Team
I take customer service very seriously. So does my Director of Operations. Together, we are committed to providing exceptional customer service to all of our clients.
If you need to schedule an appointment or request any other service, please let us know. We will respond promptly.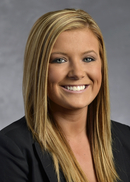 Erin M. McDonough
Director of Operations
Office 618-589-7047

Erin is the an Associate Financial Representative and Director of Operations for the Blaha team. She began her career with Northwestern Mutual in 2013 and joined the Blaha team in August 2018. Erin graduated from Southern Illinois University Edwardsville with a Bachelor's of Science in Business Administration, specializing in Finance and Management. Erin's responsibilities for the Blaha team include but are not limited to maintaining client relationships, all marketing initiatives, and providing operational and administrative support.
In Erin's free time, she enjoys being outdoors and spending time with her fiance, Drew and his daughter Makynna.